Elia Viviani is back on the winning track!
The Italian sprinter, who has been improving steadily since the beginning of the season, won in Cholet - Pays de la Loire, concluding a solid collective performance of the team. It was his first victory for Cofidis, the second for our team this season.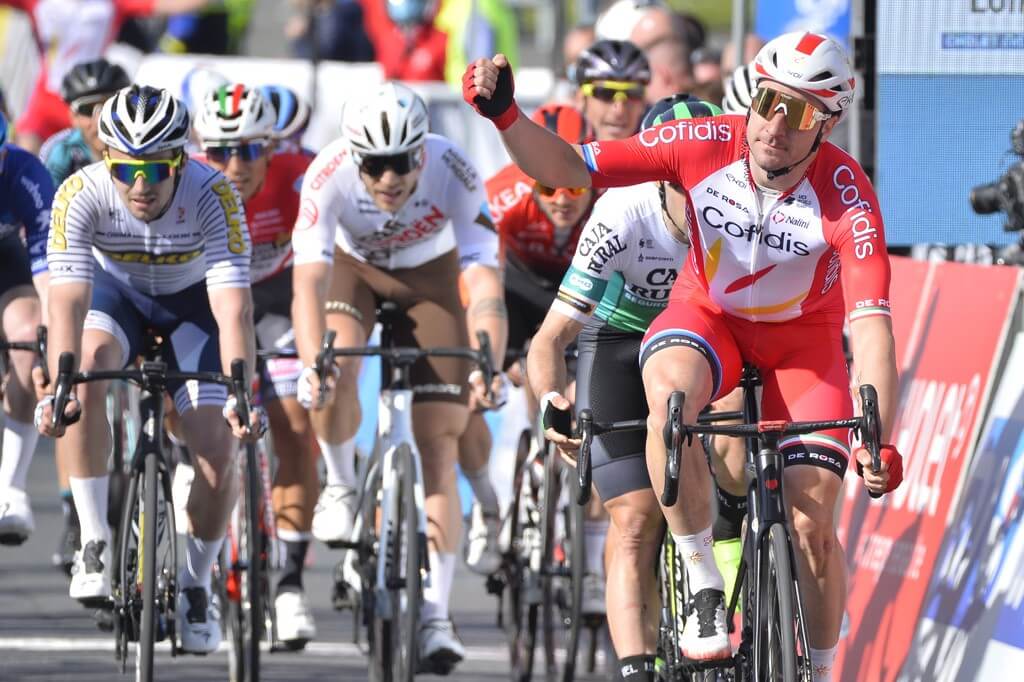 It is a unique thrill, a sensation that all sprinters are looking for. To be able to benefit from the precious work of his teammates, to launch his sprint, to feel the power, to raise his arms to the sky… Elia Viviani experienced this moment in Cholet on Sunday afternoon. All day long, the team showed a lot of self-sacrifice to counter the attacks and to make sure that their sprinter was in the best possible condition. Pierre-Luc Périchon, Victor Lafay, Anthony Pérez, Simon Geschke, Emmanuel Morin, Eddy Finé and Fabio Sabatini all contributed to this great success.
A victory "that makes everyone feel good"
The beginning of the race was quite eventful", says Jean-Luc Jonrond, the team manager. We started to control the breakaway and each rider worked hard. Anthony (Pérez), Pierre-Luc (Périchon) and Simon (Geschke) worked hard throughout the day. And in the final, Emmanuel (Morin) did an excellent job in the last 2 kilometres before Fabio (Sabatini) propelled Elia to victory". At the end of this beautiful day, satisfaction is the main thing. "This victory is good for everyone", smiles Jean-Luc Jonrond.
Elia Viviani never gave up
This victory demonstrates the constant rise in power of Elia Viviani. The Italian sprinter came close to victory at the UAE Tour (a second place and three top five finishes), and this was his 98th victory in the professional category. It symbolizes all his efforts, he who has always worked hard and never slackened. However, nothing was easy last year during this particular season due to the health crisis which prevented him from working with serenity, especially on his automatisms with his team-mates.
But the fact that he always believed in it and trained relentlessly, especially this winter, allowed him to find his way back to victory. This day also illustrates the great cohesion and team spirit that prevails at Cofidis this season. Everyone, staff and riders alike, are hoping to continue this great momentum. This is the second victory of the season after Christophe Laporte's victory in the Étoile de Bessèges. Cofidis is the only French team to have won twice at the start of the 2021 season.
COMMENTS
Elia VIVIANI: "The victory is finally here! I'm really happy about that. A day like today should be a normal day for me and for the team. I want to continue to find my level and fight to win more races. The team did a very good job to get me to the sprint in a perfect way. Emmanuel (Morin) and 'Saba' (Sabatini) were very involved at the end. And I'm happy that I did a good sprint afterwards. Now I hope to keep this confidence for the next few races and continue with the same motivation and continue with the same motivation. I would like to thank the whole team: like me, they have all been waiting for this for a long time. From now on, we will do everything we can to keep this good momentum. "
Cédric VASSEUR: "I am very happy for Elia and for the whole Cofidis team. All our riders behaved in an exemplary way. We only had one objective: to win in Cholet with Elia Viviani. And everyone was there. We saw a fantastic job throughout the race and the team was in control of the situation. Emmanuel Morin and then Fabio Sabatini were the launch pads for Elia and there was no contest at the finish line. Elia Viviani was victorious again after a good start to the season. This victory is essential to have a surplus of confidence and I'm sure it's the start of a long series."